Nickole Brewster works at AJ Westfall Company where their motto is, "We don't cut corners, we clean them." Her attention to detail, friendly personality, and excellent communication skills make her a favorite among her clients. She's able to meet the needs of her clients by being flexible with their schedules and needs, while being punctual and consistent in her work quality. As the manager, she's also responsible for training and supervising new hires, ensuring the excellent service is passed on to each team member.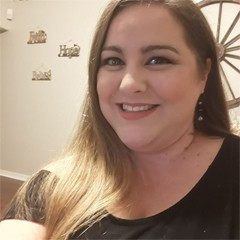 Nickole moved to Florida from Columbus, Ohio, in 2006 to work for her aunt and uncle, Alan and Eileen Westfall, the owners of the company. She met her husband Cameron at AJ Westfall, literally helping to expand this family-owned business. Nickole and her husband have two children, whom she also homeschools.
AJ Westfall Company cleans both residential and commercial properties according to their clients' needs and specifications. They can provide daily, weekly, bi-weekly, or one-time cleaning with no contracts and easy rescheduling options. Call on "The Dirt Terminators" at AJ Westfall Company to get a free quote and a customized schedule to meet your cleaning needs.